From September 9th to September 12th, 2012 Global Organic Photovoltaic Conference (GOPV 2012) was successfully held in Suzhou Institute of Nano-Tech and Nano-Bionics (SINANO), CAS. About 150 participants from 11 different countries and regions, including China, Denmark, USA, Germany, Sweden, Switzerland, France, Japan, Australia, Singapore and Taiwan, have attended the conference.
GOPV 2012 was launched by China and Denmark Bilateral International Cooperation Institute, organized by SINANO. Prof. CHEN Li-Wei, Vice President of SINANO took the chief chair.
In order to enhance the exchange between scientists around the world, and provide a forum for further interdisciplinary discussion and international cooperation, the conference contained 5 plenary lectures, 27 invited talks, 7 oral presentations, 9 young scientist talks, and 37 poster presentations. Conference topics covered organic photovoltaic materials, photovoltaic devices, roll-to-roll fabrication processing, device physics, new device structure, device stability, and nearly all the aspects of the organic photovoltaic.
Comparing with the GOPV 2011, GOPV 2012 enhanced the discussion and exchange between experts and young scientists in the form of Young Scientist Form. 9 young researches, including assistant professors, post-doctors, Ph.D students gave their talks. Meanwhile, some business participants also attended the conference, and exhibited their materials and equipments.
After the conference, the participants visited SINANO, and made extensive and deep discussions with staffs and students there. All the participants look forwards to the next GOPV conference.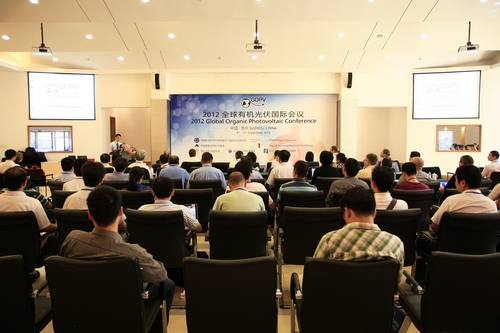 Attendants @ GOPV 2012
Photo by SINANO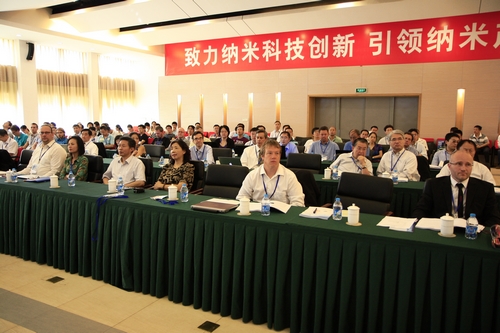 Experts @ GOPV 2012
Photo by SINANO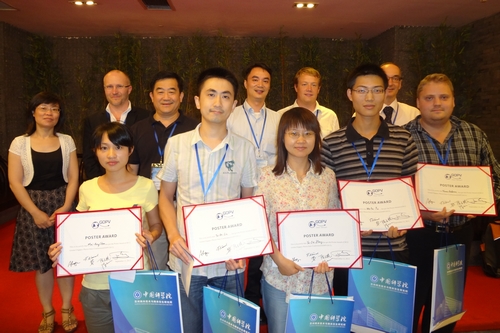 Poster Winners
Photo by SINANO