Figure 2. Proposed apoptotic pathway in HCT 116 cells treated by combination of graphene oxide-loaded BEZ235 and TNF-α.(Image by SINANO)
In addition, Zhang and colleagues, in collaboration with Professor Nongyue He at Southeast University, have developed a PEGylated reduced GO (RGO) nanovector for efficient delivery of ssRNA. Their work uncovers that RGO exhibits superior ssRNA loading and delivery capibility, compared to the widely studied GO. Computation simulation further suggests that PEG-RGO binds ssRNA much stronger than PEG-GO, in consistence with the experimental result. This work will have implications in designing RGO-based biocompatible and efficient ssRNA delivery systems. The work was published recently in J. Mater. Chem. B as cover article (Figure 3) (J. Mater. Chem. B, 2013, 1, 749-755).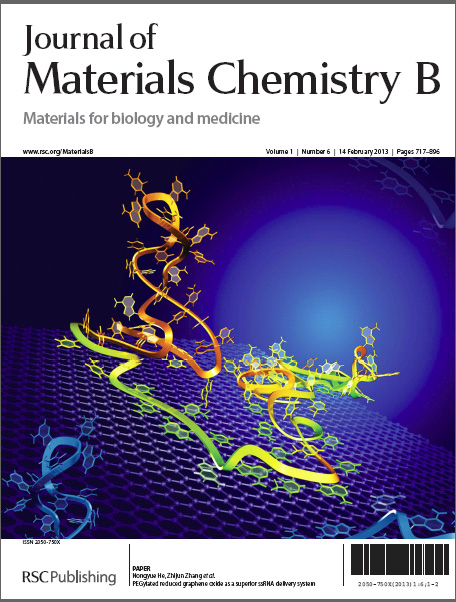 Understanding the cellular uptake mechanism of GO and the release behavior of drug molecules from GO surface is very important for design of new efficient GO-based drug delivery systems. Working with Professor Bin Ren, Xiamen University, Zhang et al. studied the cellular uptake behavior of GO by means of surface enhanced Raman spectroscopy (SERS). They found that GO is internalized mainly through clathrin-mediated, energy-dependent endocytosis (Small, 2012, 8, 2577-2584). Most recently, they forwarded this work and developed composites of Ag nanoparticles and GO via covalent conjugation, and employed it to study the release behavior of anticancer drug Dox from GO carrier in living cells by SERS technique. They found that after cellular uptake of Dox and Ag nanoparticles-loaded-GO, Dox was released from GO inside the lysosomes, and then entered into the nucleus, while GO was trapped in the cytoplasm (Nanoscale, 2013, DOI: 10.1039/C3NR03264G).
Recently Zhang's group summarized their work on GO-based drug delivery and bioimaging in an invited review "Biomedical Applications of Graphene" (Theranostics, 2012, 3(2), 283-294).
These researches were supported by the National Natural Science Foundation of China, Ministry of Science and Technology of China, Chinese Academy of Sciences, and Jiangsu Provincial Fund for Natural Sciences.