In the hybrid membrane, as shown in Figure 1, partially amidoximefunctionalized PIM-1 (PAO-PIM-1) as the polymer matrix and an amine-functionalized metal–organic framework (MOF), NH2-UiO-66, as the inorganic filler, amidoxime and amine groups tend to form hydrogen bonds, creating a hydrogen bond network between the two phases. A nearly ideal and defect-free interface made the hybrid membrane exhibit excellent separation performance for CO2/N2 and CO2/CH4. ( Journal of Materials Chemistry A, 2017, 4 , 10968-10977).

Figure 1. Synthetic scheme of PAO-PIM-1, the hydrogen bond network guided interface design of the hybrid membrane, temperature dependent infrared reflection (IR) spectra, N-H and O-H stretching vibration.(Image by SINANO)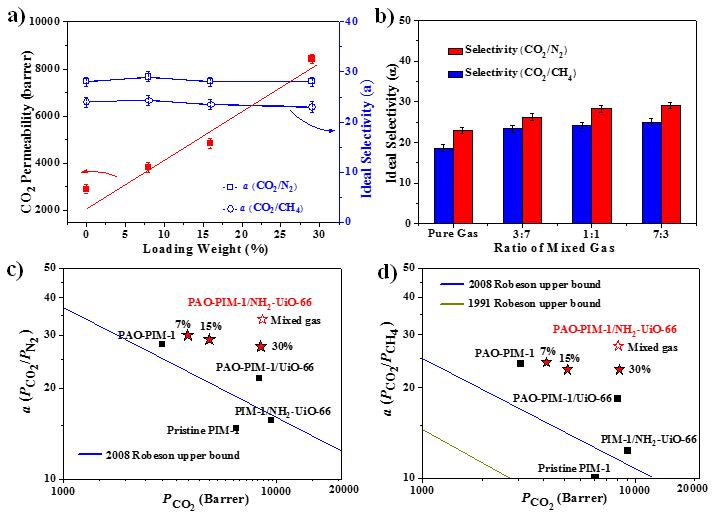 Figure 2. CO2 permeability and ideal selectivity of the PAO-PIM-1/NH2-UiO-66 hybrid membrane variation trend with filler load increase, different gas ratios, relationship between gas permeability (P) and gas pair selectivity (α) .(Image by SINANO)
Contact information: Prof. JIN Jian
Suzhou Institute of Nano-Tech and Nano-Bionics ,Chinese Academy of Science
Suzhou, Jiangsu 215123, China.
E-mail: jjin2009@sinano.ac.cn