Air pollution is one of the most serious issues facing the world today. Instead of expensive and energy-intensive air-filtering devices, nanofiber-based transparent air filter coated on window screen has shown its potential as one of the state-of-the-art filtration technologies to combat the seriously growing problem, delivering the advantages of simplicity, convenience and high filtering efficiency. However, previous efforts on these transparent window screen mainly aim at the protection against PM2.5, while leaving the problem of protection against other air pollutants such as NH3 largely unexplored.
A research team led by Prof. ZHAO Zhigang from Suzhou Institute of Nano-tech and Nano-bionics, CAS, has reported the first use of a newfangled type of color-changing microfibers, based on porous Prussian blue analogues (CuHCF) and polymer composite fibers, for the construction of transparent "smart" window screen towards air pollutant filtration.
Such composite fibers overcome some of the limitations exhibited by those previously used fibers, and could simultaneously capture PM2.5, PM10 and NH3 with high efficiency. By controlling the fiber microstructure and surface chemistry, the nanofibers could effectively remove 99.9% PM particles in highly polluted air, and have a high ammonia removal capacity of 1.8 mmol/g. More interestingly, the air pollutant capture can be directly visualized by color changes in such smart window screen, which provides enhanced user-interactive experience for users.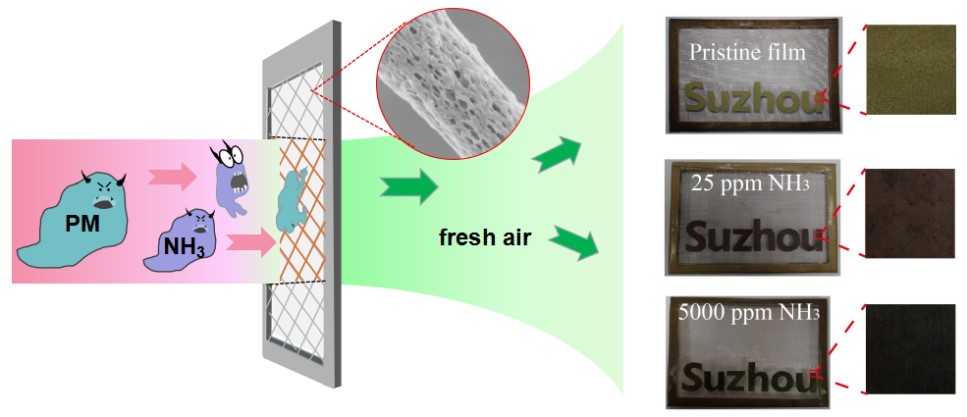 Schematic of air filtration by fiber-based transparent air filter coated on window screen and figures showing visualized monitoring of NH3.(Image by SINANO)

Their work entitled "Color-Changing Microfiber-Based Multifunctional Window Screen for Capture and Visualized Monitoring of NH3" was published in ACS Applied Materials & Interfaces. This research was supported by the National Natural Science Foundation of China, the Outstanding Youth Fund of Jiangsu Province, et al.
Contact information:
Prof. Zhao Zhigang, Suzhou Institute of Nano-Tech and Nano-Bionics, Chinese Academy of Sciences
Email: zgzhao2011@sinano.ac.cn