InGaN-based superluminescent diodes (SLDs) has been explored as an alternative light source to the traditional light-emitting diodes and laser diodes for solid-state lighting, display and high-speed visible-light communications, due to its nature of high-brightness, low temporal coherence, low delay and eye-friendly broad emission spectrum.
Recently, a research team led by Prof. SUN Qian and Prof. YANG Hui at Suzhou Institute of Nano-Tech and Nano-Bionics (SINANO) of the Chinese Academy of Sciences, demonstrated the first InGaN-based multiple quantum wells SLD monolithically grown on silicon substrates. The study was published in ACS Photonics.
The researchers used metal-organic chemical vapor deposition to create the III-nitride SLD structure on (111) silicon substrates. In the experiment, the index-guided SLDs were formed with a J-shaped ridge waveguide to suppress optical feedback oscillation.
Furthermore, they studied the electroluminescence spectrum, polarization characteristics and the RC-delay of the SLDs. The SLDs presented a large degree of polarization of 98% and a low RC-delay of 1.77 GHz, suggesting highly promising applications in high-speed transmitter for VLC.
This study opens up the opportunities for cost-effective compact on-chip light sources for speckle-free displays and visible light communications.
This work was supported by the National Key R&D Program, the National Natural Science Foundation of China, the Key Frontier Scientific Research Program of the Chinese Academy of Sciences and the China Postdoctoral Science Foundation.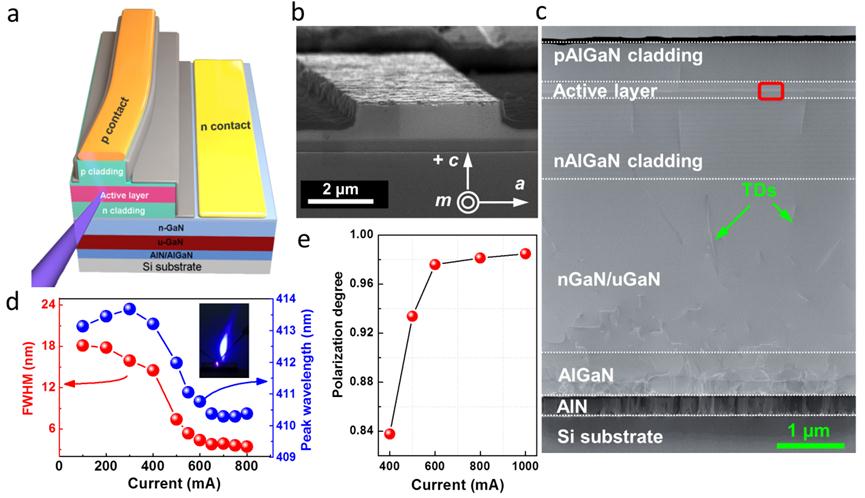 Layer structure and performance of the InGaN-based SLDs grown on Si. (Image by SINANO)