Alzheimer's disease (AD) is a common dementia that is currently incurable. Current AD therapies, including anti-Aβ, anti-tau, and immune modulation, are only effective in preventing or delaying the development of AD in patients with very early pathology, but ineffective for slowing cognitive decline in patients who already have significant impairment. The failures of these therapies are partly due to their inability to regenerate the lost neurons in the brains of symptomatic patients.
Recently, a research team led by Prof. Qiangbin Wang from Suzhou Institute of Nano-Tech and Nano-Bionics (SINANO), Chinese Academy of Sciences (CAS), developed a nanoformulation-mediated neural stem cell (NSC) therapy capable of simultaneous Aβ clearance and neural regeneration in a murine model. In this work, genetically engineered NSCs capable of stably and continuously expressing neprilysin (NEP) were developed to enhance Aβ degradation and NSC survival in the brain. A PBAE-PLGA-Ag2S-RA-siSOX9 (PPAR-siSOX9) nanoformulation with high gene/drug deliverability was synthesised to overcome AD microenvironment-associated adverse effects and to promote neuronal differentiation of the NEP-expressing NSCs via a synergistic regulation of the Wnt/β-catenin and RA signalling pathways. For achieving accurate stereotactic transplantation, Ag2S quantum dot-based fluorescence imaging was used to guide NSC transplantation in real-time. This strategy showed numerous benefits, including efficient and long-lasting Aβ degradation, improved neural regeneration, and accurate cell transplantation. Thus, a single administration of this therapy achieved long-term efficacy (6 months) with respect to memory reversal and improvement of learning deficits.
This work entitled "A nanoformulation-mediated multifunctional stem cell therapy with improved beta-amyloid clearance and neural regeneration for Alzheimer's disease" was recently published in Advanced Materials.
This work was financially supported by the National Key Research and Development Program, the National Natural Science Foundation of China, Basic Frontier Scientific Research Program of Chinese Academy of Sciences.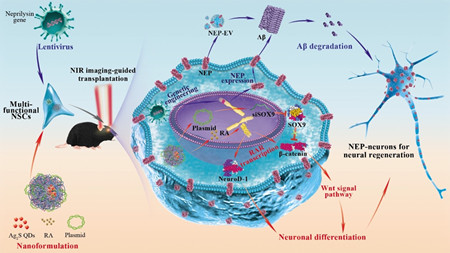 Figure 1. Schematic of the multifunctional neural stem cell therapy for the treatment of Alzheimer's disease.
Contact information: Prof. Qiangbin, Wang, Suzhou Institute of Nano-Tech and Nano-Bionics, Chinese Academy of Sciences
Email: qbwang2008@sinano.ac.cn
Reference: https://doi.org/10.1002/adma.202006357